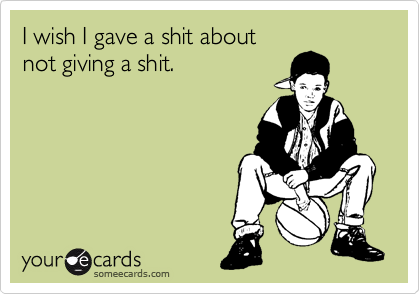 If you've read this blog or my posts on Guyspeak long enough, you know that I haven't quite come to terms yet with this whole getting older bullshit. In my mind I'm still a 20-year-old punk who can play a game of pickup football all afternoon, drink beer all night, then wake up the next morning none the worse for wear and be ready to do it all again--after I take that final I forgot I had and somehow make a B+.

Alas, them days is gone. Way gone. The last time I tried to play touch football (with adults) was back in 1993. I got a cleated kick to the eye on the very first play, and that was the end of that.

Luckily, there are some perks to getting older. One of my favorites is a distinct loss of interest in giving a shit about things that younger people think are important. I can't say that I have completely mastered the art of not caring about all these things, but I'm getting there.


-
Being right.


-
Being liked.


-
Being understood.


-
Life being fair. It isn't and never will be. I'll live. So will you.


-
Being on time. (This one I fight but it's hard to get worked up about arriving eight minutes late to an appointment with a doctor who routinely makes me wait anywhere from 45-75 minutes.)


-
Hiding my true feelings for fear of offending someone. I've never been good at this but I don't even try anymore. If you're a tool, I might not call you one to your face, but I won't pretend to like you.


-
Being attractive. My wife still loves my bloated ass and that's good enough.


-
Being good at everything. Or being good at many things at all.

- Being 100% politically correct. Sorry, I'll stop using the word

midget

when they pry it from my cold dead fingers.


- Doing the right thing every time. It's a nice goal, but we're all gonna make mistakes.

Your turn. What things do you find yourself caring less about as you get older?